[Workshop] Johannes Schwartz, "Memorializing War Crimes: Ruins, M…
페이지 정보
Name

최고관리자

Date

19-09-19 13:19 Hit816 Comment0
본문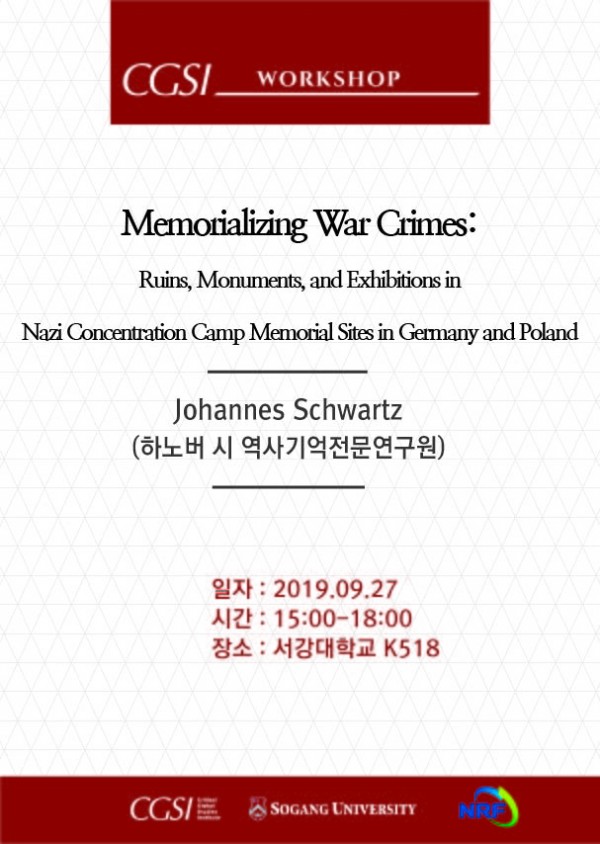 CGSI Workshop

Title: Memorializing War Crimes: Ruins, Monuments, and Exhibitions in Nazi Concentration Camp Memorial Sites in Germany and Poland

Presenter: Johannes Schwartz

Date & Time: September 27, 2019, 15:00-18:00

Venue: K518, Sogang University

* Johannes Schwartz is an academic employee of the City of Hannover. He is commissioned by the Culture Department to do provenance research about ancient art objects and coins, autographs and 20th century books, suspicious of being confiscated in the Nazi era, conserved today in the collections of the Museums for Cultural History (The Museum of History and Museum August Kestner) and in the City Archives. Before, he was working in different exhibitions and film projects in Germany and Poland, related to Nazi concentration and extermination camps. He was the director of the Lichtenburg concentration camp memorial site and supported and realized exhibition projects in the Ravensbrück and Mauthausen Memorial Site. His PhD thesis on female SS guards in Ravensbrück and Neubrandenburg has been published by the publisher "Hamburger Edition" in March 2018.