[Colloquium] Karen Petrone, "Gender and War Memory"
페이지 정보
Name

최고관리자

Date

18-09-28 15:30 Hit155 Comment0
본문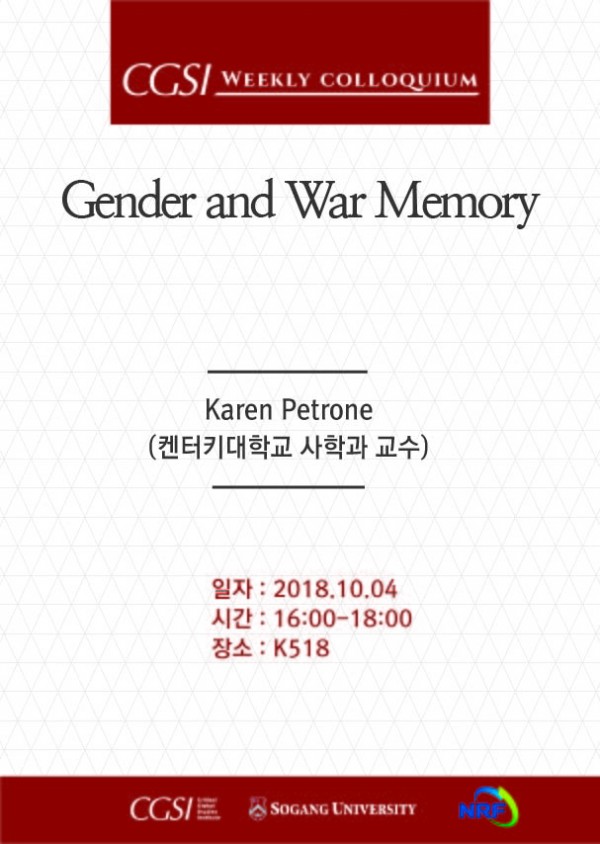 CGSI Weekly Colloquium

Gender and War Memory

Prof. Karen Petrone (Department of History, University of Kentucky)

Date & Time: October 4, 2018, 16:00-18:00

Venue: K518, Sogang University

About the speaker, Karen Petrone:
Karen Petrone teaches at the Department of History, University of Kentucky. Her primary research interests are cultural history, gender history, propaganda, representations of war, and the history of subjectivity and everyday life, especially in Russia and the Soviet Union.

Her new book The Great War in Russian Memory (Indiana University Press, 2011) challenges the notion that World War I was a forgotten war in the Soviet Union. She argues that although the war was not officially commemorated by the Soviet state, it was the subject of lively discourse about religion, heroism, violence and patriotism during the interwar period. The book then traces how this discourse disappeared due to the growing militarization of the Soviet state in the 1930s.

Both in the project on World War I memory and in a series of other on-going projects, Petrone explores issues of gender. She has co-edited a volume of essays in comparative history with Jie-Hyun Lim of Sogang University in Seoul, South Korea, entitled Gender Politics in Mass Dictatorship: Global Perspectives (Palgrave, 2011). In her next project on the Soviet domestic perceptions of the Soviet Afghan war (1979-1989), she hopes to explore the role of gender in Soviet justifications of and the population's resistance to the Soviet war in Afghanistan.




Abstract of the talk:

"Gender and War Memory"

War memory -- how states represent the nature of war, its sacrifices, and its outcomes -- is crucial to understanding how states define citizenship, promote nationalism, and legitimate militarism.

I argue that depictions of masculinity and femininity are central to the construction of war memory because of their power to mobilize real men and women as citizens, soldiers, and mothers of the nation.

This talk explores gendered memories of the First and Second World Wars in the US, Europe, and Asia.